Sintra National Palace
The palace has the largest collection of Mudéjar Azulejos in the world and its twin 33 metres high chimneys are the symbol of Sintra.
History
After the Reconquista (Reconquest) of Portugal , the Palace passed into the possession of the Crown and was extended three times.
In 1281, King Denis decreed that the conservation of the Palace should be entrusted to the enfranchised Moors.
Later, in the early 15th century, King John I (1385-1433) built the central body of the building.
In the first quarter of the 16th century, King Manuel I added several wings and in particular enriched the interior, which now possesses the most important collection of Mudéjar Azulejos (coloured glazed tiles) in the world.
The successors of Manuel I neglected the Palace and it was refurbished in the 17th century, when King Afonso VI (1643-1683), mentally and physically ill, was dethroned in 1667 and exiled to the Azores by its brother, Peter II , was detained in the Palace in 1675 for the last nine years of his life.

Sintra National Palace viewed from the Castle of the Moors
Magpies Room Sala das Pegas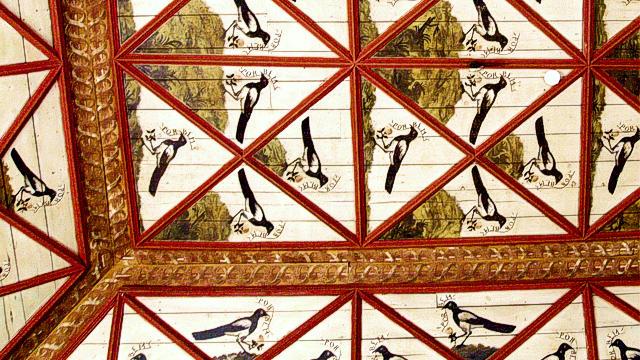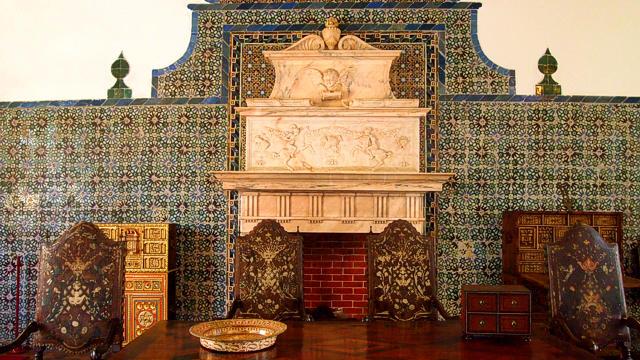 The room takes its name from its magpies painted ceiling. Each magpie holds a rose (symbol of the Queen Philippa's House of Lancaster) and says "Por bem" (Without bad meaning).
The legend says that her husband, King John I (1357-1433) was caught by court women kissing a lady which led them to chatter like magpies.
The King defended himself that the kiss was "Por bem" (Without bad meaning) and got the ceiling painted by 136 magpies, one for each women of the court, so that they do not forget their duties of courtesan.
Swans Room Sala dos Cisnes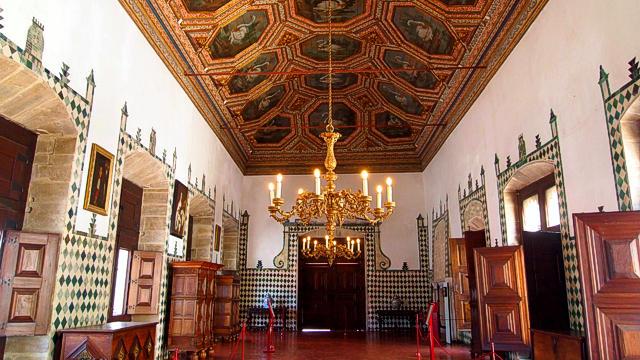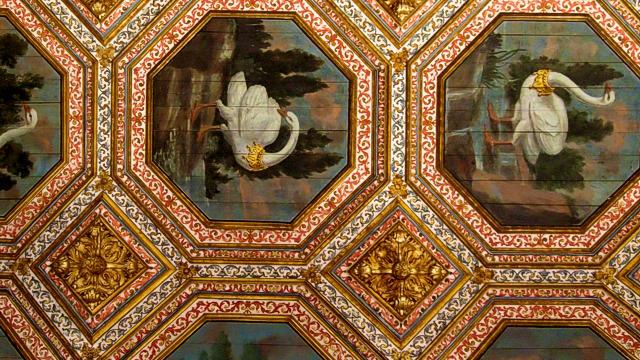 The Sala dos Cisnes (Swan Room) evokes the royal marriage of the lnfante D. Isabel de Portugal with the French Duque of Burgundy Philip the Good in 1430, its ceiling being divided in octagonal panels decorated with swans.
Kitchen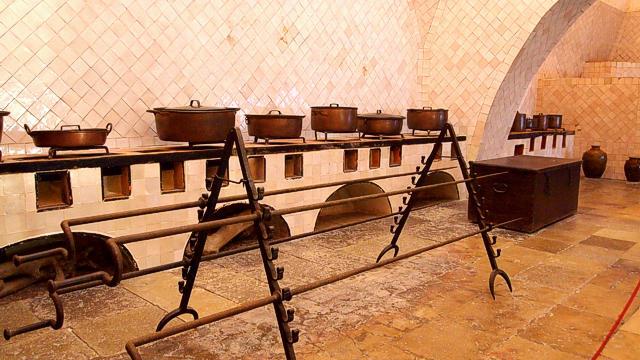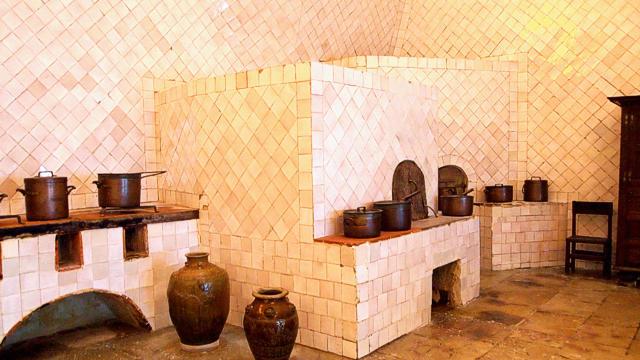 The Palace's kitchen is huge and allowed to cook for over thousand guests, roasting entire beeves on its spindles.
It is topped by twin 33 metres high chimneys, feature of Sintra's landcsape.
Coats of Arms Room Sala dos Brasões

The room, erected by King Manuel I in 1508, exhibits the coats of arms of his contemporary 72 noble Portuguese families.
The walls are covered by 16th century Azulejos (coloured glazed tiles) representing hunting scenes.
Opening hours
Open all year except December 25th and January 1st
Last entry 30 minutes before closing time
Summer 2018 up to
From 09:30 until 19:00
Winter 2017-2018 up to
From 09:30 until 18:00
€ Prices up to Oct 27, 2018
Adult (18-64 years) Entry

€

10,00

Youth (6-17 years) Entry

€

8,50

Senior (over 64 years) Entry

€

8,50

Family (2 adults + 2 youths) Entry

€

33,00
Coordinates: 38.797469; -9.390629
Address: Praça da República, 2710-616 Sintra Portugal
Bus
434

(

Pena line

)

4 minutes from/to Sintra Train Station

Frequency:
Every 15 minutes, from 09:30 until 18:20
Detailed timetable

Itinerary:
Sintra Train Station > Historic City Centre - Tourist Office - Sintra National Palace > Castle of the Moors > Pena Palace > Historic City Centre - Sintra National Palace > Sintra Train Station
Route Calculator | Scotturb, Cascais Sintra Busses Website
Public transportation in Sintra
Bus
435

(

4 Palaces line

)

4 minutes from/to Sintra Train Station

Frequency:
Every 25 minutes, from 09:40 until 18:15
Detailed timetable

Itinerary:
Sintra Train Station > Historic City Centre, Tourist Office, Sintra National Palace > Regaleira Palace > Seteais Palace > Monserrate Palace > Seteais Palace > Regaleira Palace > Historic City Centre, Sintra National Palace > Sintra Train Station
Route Calculator | Scotturb, Cascais Sintra Busses Website
Public transportation in Sintra