Museum's entrance
Located at the Air Base Nº 1, the Museum exhibits over 100 aircrafts and 9,500 pieces.
The 3,000 sq/m main hall hosts 42 aircrafts, presented in a chronological order and including some rarities such as the Junkers JU-52 and the de Havilland Dragon Rapide .
The 700 sq/m TAP (National Airlines) hall exhibits the history of the company since its incorporation in 1945 and features its first flight simulator.
The Pioneer's Room displays the navigation instruments, maps and personal belongings of the first Portuguese pilots such as Sacadura Cabral , Gago Coutinho and Sarmento de Beires .
The ANA (National Airports) hall of 700 sq/m contains the original model of Lisbon's airport when opened in 1942 as well as the equipment and furniture of the first Air Traffic Control Tower.
Three thematic halls are dedicated to the colonial war , the civil aviation, and the Airforce pilots training.

Main Hall
Opening Hours:
Tuesday to Sunday from 10:00 until 17:00
Closed on Mondays; Dec 24, 25, 31 & Jan 1; and Easter Sunday.
Entrance:

€

3.00

F16 in the open air exhibition

Inaugurated in 1955, in the village of Odrinhas, 11 km from Sintra, the museum integrates the ruins of a Roman villa featuring a polychrome mosaic, a megalithic sanctuary, an imposing paleo-Christian apsidal monument and remains of a necropolis from the Middle Ages.
It covers an area of 15,000 sq/m out of which 3,500 are covered.
Its epigraphic collection, considered the most complete and important in the country, counts over two hundred Etruscan, Roman, Visigothic and Medieval artefacts.
In addition to the exhibition, the museum also features a specialised library, an auditorium, a restoration workshop and a leisure area.

Roman Villa ruins
Tours, which are guided by technicians of the museum, include a visit to the nearby ruins.
Opening Hours:
Tuesday to Saturday
from 10:00 until 13:00 and from 14:00 until 18:00
Closed on Sundays, Mondays and Holidays
The library is closed in August
Entrance:

€

2.00


Hosted in a building dating back to 1920, former casino of Sintra, the museum displays the county's collection of contemporary art.

An extraordinary collection of thousands of fossils of exceptional scientific value gathered during 50 years by the Portuguese writer and painter Miguel Barbosa.
The museum is located in the historical centre of Sintra in a building erected in 1893.
Opening Hours:
Tuesday to Friday from 10:00 until 18:00 and
Saturday & Sunday from 12:00 until 18:00
Closed on Mondays and Holidays
Last entry at 17:00
Entrance:

€

1.00

Address:

Rua do Paço, 20




2710-602

Sintra

Coordinates:
38.7979137; -9.3899416
Telephone:
+351 219 238 563

Located in the former trams depot, the centre let the visitor use 37 hands on units related to: water, human body, physics and chemistry phenomena, environment and astronomy. Learning by practice.
Bus
403
Cascais Terminal - Sintra Estação
Cascais Bus Terminal - Sintra Train Station
7 minutes to and from Sintra Train Station
Frequency:
Every 30 minutes, from 09:00 until 19:10
Detailed timetable

Bus 403 Itinerary Diagram
Itinerary:
Sintra Train Station <-7 min-> Live Science Centre (Ribeira Sintra) <-30 min-> Cabo da Roca <-22 min-> Cascais Bus Terminal
Route Calculator | Scotturb, Cascais Sintra Busses Website
Public transportation in Sintra

'The Chased' statue in the museum garden
Settled in the historical centre of the city, in a recovered building which includes an old water-mill, the house/museum contains an important collection of sculptures, sketches in plaster and other works by Artur Anjos Teixeira (1884-1935) and his son Pedro Anjos Teixeira (1908-1997), who lived and carried on their work there.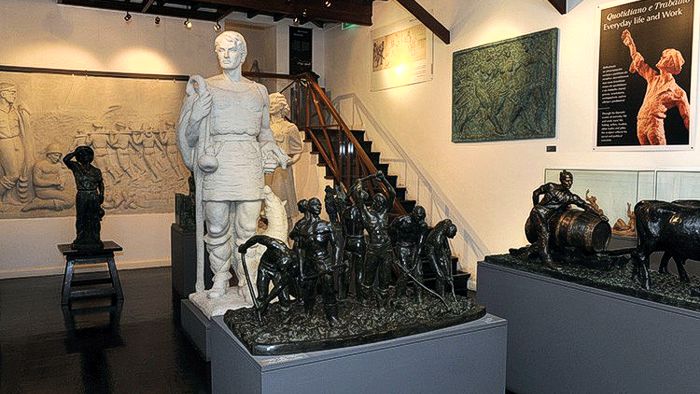 Located right in the historical centre, the museum contains the private, literary and artistic heritage left by the great Portuguese novelist Ferreira de Castro (1898-1974).

A journey into the artistic imagination of the internationally renowned caricaturist and painter Tomas Leal da Câmara (1876-1948) in his last residence which has been transformed into a museum.
Related links