Quinta da Regaleira
A fabulous assemblage of constructions full of Templars and Masonic symbols
History
After changing hands various times between 1697 and 1817, the estate became known as Quinta da Torre.
Bought in 1840 by the Baroness da Regaleira, daughter of Alfredo Allen, a wealthy trader from Porto, the property is transformed into an elegant summer retreat with a palatial house and chapel. Its name was changed to Quinta da Regaleira.
In 1893 it is acquired at a public auction by António Augusto Carvalho Monteiro (1848-1920), a man of vast culture who had amassed a fortune in Brazil. He then added surrounding plots of land giving it the present pentagonal outline of the property boundaries.
Carvalho Monteiro , profoundly influenced by the 'revivalist' Neo-Manueline architecture of the times, took inspiration for the construction of the palace and its chapel from the structural and decorative eclecticism of the Pena Palace and the Neo-Manueline style of the Palacio do Buçaco designed by the scenographer-architect Luigi Manini (1848-1936).
He hired Manini to design and build Regaleira. The project was completed in 1911.
The Quinta da Regaleira was purchased in March 1997 by the Sintra Town Council which, since then, is undertaking a vast conservation and rehabilitation program.

The Palace
Hunting Room
The dining room is overwhelmed by the massive fireplace that supports a statue of a woodsman. The mantelpiece depicts hunting scenes that are exceptionally well carved.
The theme of the 'cycle of life' is evident throughout the room: from the polychrome Venetian mosaic floor to the carvings of the ceiling.
Octagonal Room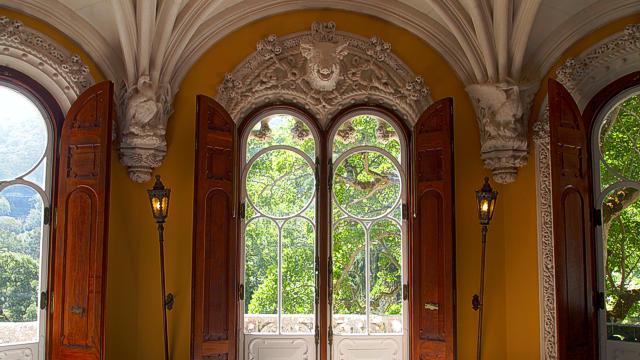 The room design was Inspired by the Templar Convent of Tomar .
The Chapel
Built in the Neo-Manueline style, the Capel is decorated by scenes of the life of Jesus Christ.
It contains also many symbols of the Knights Templar and their successors in Portugal, the Knights of Christ .
The crypt is linked to the Palace through a tunnel.
The Gods Promenade
An alley with statues of classical gods: Fortune, Orpheus, Venus, Flora, Ceres, Pan, Dionysus, Vulcan, Hermes, etc.
The Portal of the Guardians
A highly dynamic structure composed of twin towers flanking a central pavilion under which is hidden one of the underground ways to the Initiation Well.
The Initiation Well
A 'subterranean tower' sinking 27 metres into the earth accessible by a monumental stairway, full of masonic, esoteric and alchemical symbols.
The Underground Walkways
A large network of tunnels links many buildings of the estate.
Opening hours
Open all year except December 24th and 25th
Minimally from 09:30 until 18:00
| Period | Opening | Last entry | Closing |
| --- | --- | --- | --- |
| April to September | 09:30 | 19:00 | 20:00 |
| October to March | 09:30 | 17:00 | 18:00 |
€ Prices
Children up to 5 years Entry

€

Free

Children from 6 up to 17 years Entry

€

4,00

Adult Entry

€

6,00

Senior (above 65 years) Entry

€

4,00
Getting there
Coordinates: 38.7960136; -9.3959981
Adress: Rua Barbosa du Bocage, 2710-567 Sintra Portugal
Bus
435

(

4 Palaces line

)

6 minutes to and from >Sintra Train Station

Frequency:
Every 25 minutes, from 09:40 until 18:15
Detailed timetable

Itinerary:
Sintra Train Station > Historic City Centre, Tourist Office, Sintra National Palace > Regaleira Palace > Seteais Palace > Monserrate Palace > Seteais Palace > Regaleira Palace > Historic City Centre, Sintra National Palace > Sintra Train Station
Route Calculator | Scotturb, Cascais Sintra Busses Website
Public transportation in Sintra

Gods Promenade