Queluz National Palace
Often called the Portuguese Versailles this Neo-Classic Palace was the Court summer residence.
The Palace
Commissioned in 1747 by Prince Peter, later King Peter III , the palace would not be finished until after his marriage in 1760 to future Queen Maria I .
Queluz, which has not infrequently been compared with Versailles Palace because of its façades and French-style gardens with a profusion of fountains, statues, trees and well-shaped shrubs, differs from Louis XIV's edifice in the sense of scale and proportions revealed in its lines, perhaps with a more balanced distribution of graphic values within Neo-Classicism .
Only the force and exuberance of the pavilion conceived by French architect Jean-Baptiste Robillion, with its strong French and Austrian influence, strikes a more 'evolved' note, for all the rest is thoroughly Portuguese, its scale and ln the artistic spirit itself.
Nowadays the Palace is the official residence of foreign personalities who are received by the Portuguese State, as well as being used for many concerts exhibitions and pageants.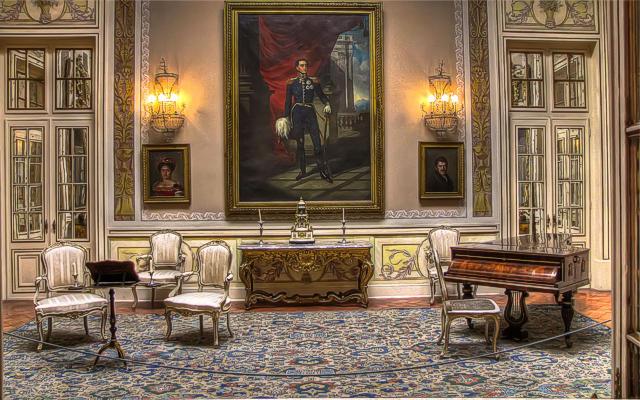 Lantern Room decorated with the portrait (the largest of the palace) of King Miguel I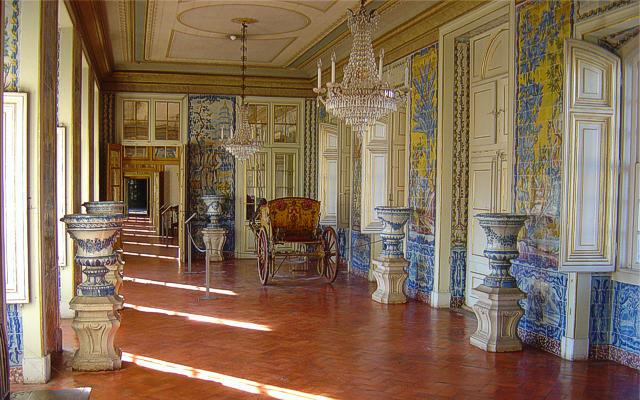 Corridor of the Azulejos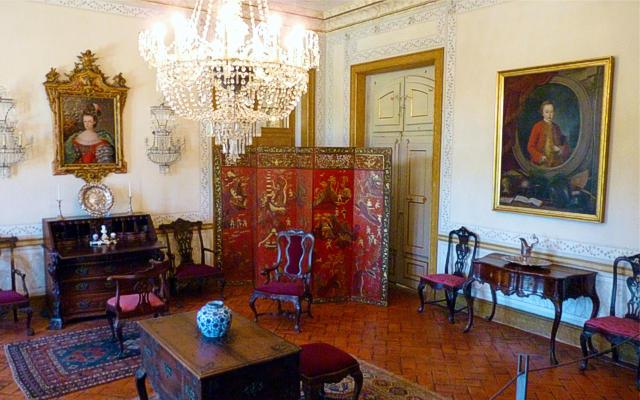 Torch Room
The Gardens

The sumptuous gardens of Queluz, reveal a scenic conception of considerable vision, which must be attributed to the French architect Jean-Baptiste Robillion and the Dutch gardener Joseph van der Kolk, according to the then prevailing 'French taste'.
The ponds and fountains, the numerous Rococo statues, the marble vases, dividing and strictly demarcating the carefully planed green zones, the Baroque cascades, the lakes and sizeable canal (once navigable, and decorated with 18th Century Azulejos ), all express a taste with attention to detail and opulent effect that enlivens the actual architectural ensemble of the Palace.
see on Google Maps
The 26 rooms Pousada D. Maria I, part of the Pousadas de Portugal hotel network , is located in the building formerly used by the Royal Guard of the Court.
The Restaurant Cozinha Velha

The reputed Pousada's restaurant Cozinha Velha offers French inspired cuisine in the former kitchen of the building.
Getting there
From Lisbon
Oriente - Sintra
13 to 25 minutes (according the station) from Lisbon
Frequency:
Every 10 minutes during the week, 30 minutes the weekend
Timetable | Prices
Itinerary:
Oriente <-8 min-> Roma-Areeiro <-2 min-> Entrecampos <-3 min-> Sete Rios <-13 min-> Queluz-Belas the Palace is 1.1 km away <-2 min-> Monte de Abraão the Palace is 1 km away <-17 min-> Portela de Sintra <-2 min-> Sintra
Route Calculator | National Railraods Website
Public transportation in Sintra
€ Prices valid up to Oct 27, 2018
Palace & Gardens
Adult (18-64 years) Entry

€

10,00

Youth (6-17 years) Entry

€

8,50

Senior (over 65 years) Entry

€

8,50

Family (2 adults + 2 children) Entry

€

33,00
Gardens
Adult (18-64 years) Entry

€

5,00

Youth (6-17 years) Entry

€

3,50

Senior (over 64 years) Entry

€

3,50

Family (2 adults + 2 children) Entry

€

15,00
Opening hours
Open all year except December 25th and January 1st
Last entry 1 hour before closing time
Summer 2018
up to
From 09:00 until 19:00
Winter 2017-2018
up to
From 09:00 until 18:00