Castle of the Moors
Dates back to the early days of the Moorish occupation (8th century)
History
Winding over two ridges of the Serra de (Mountain of) Sintra, the Castle dates back to the early days of the Moorish occupation of the Peninsula, the 8th century.
Around 1100, while Portugal was still under Moorish domination, the castle changed hand several time as the Christian Kings during the Crusades , nor the Arabs Emirs could keep the position a long time.
In 1108, the Norwegian King Sigurd the Crusader conquered the Castle while on his way to Jerusalem.
It is only in 1147, after various attempts that the Castle was definitely taken by the first King of Portugal, Afonso I (1109-1185).
Later on the castle lost its strategic importance as, peace being restored, there was no more need to protect the population inside its walls and was therefore abandoned.
It was acquired, as well as the Pena Palace, in 1838 by Ferdinand Saxe Coburg-Gotha (1816-1885), King Consort of Queen Maria II .
He restored the medieval ruin and afforested the surrounding areas, giving it a new dignity.
The latest restoration happened in 1940 for the ceremonies celebrating the foundation of Portugal.

Features
Opening Hours
Open all year except December 25th and January 1st
Last entry 1 hour before closing time
Summer 2018 up to
From 09:30 until 20:00, last entry 19:30
Winter 2017-2018 up to
From 10:00 until 18:00, last entry 17:00
€ Prices up to Oct 27, 2018
Children up to 5 years Entry

€

Free

Children from 6 up to 17 years Entry

€

6,50

Adult Entry

€

8,00

Senior (above 65 years) Entry

€

6,50

Family (2 adults + 2 children) Entry

€

26,00
Coordinates: 38.7960136; -9.3892979
Bus
434

(

Pena line

)

9 minutes from and 20 minutes to Sintra Train Station

Frequency:
Every 15 minutes, from 09:30 until 18:20
Detailed timetable

Itinerary:
Sintra Train Station > Historic City Centre - Tourist Office - Sintra National Palace > Castle of the Moors > Pena Palace > Historic City Centre - Sintra National Palace > Sintra Train Station
Route Calculator | Scotturb, Cascais Sintra Busses Website
Public transportation in Sintra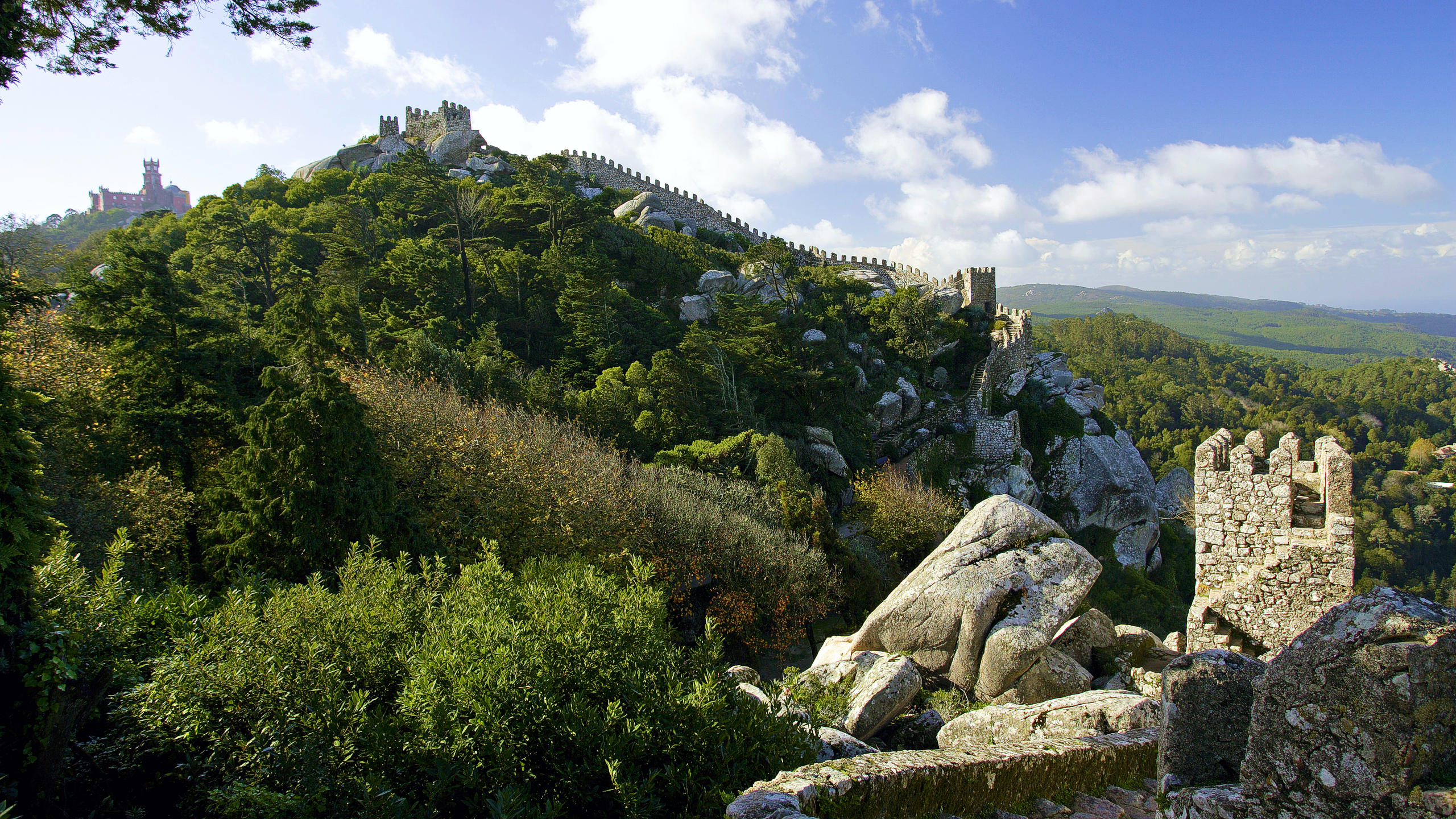 Walls of the Castle with the Pena Palace in the background on the left