ARRAIOLOS
A white village where whitewashed houses with silver and ochre lintels are guarded at the highest point by a round, walled 17th century castle.
J.P. Vinhos, S.A.
The vineyards of the Santa Marta Estate are located close to the town of Moura on the southern slopes of Alentejo. The red clay soil lies over a subsoil that is rich in limestone. The wine is made in the wine cellar at Arraiolos, where the traditional architecture of the building meets modern technology. Recommended wine: "Herdade de Santa Marta". Lugar da Cerâmica, Arraiolos).
Sociedade Agrícola Herdade dos Coelheiros, S.A.
The Coelheiros Estate, situated near Igrejinha, in the borough of Arraiolos, has some 14 hectares of vineyards, mostly of the red strains. The decorative labels are inspired by motifs from the famous Arraiolos carpets. Recommended wine: "Tapada de Coelheiros". (Monte dos Coelheiros, Igrejinha).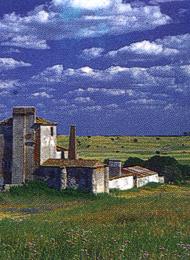 ESTREMOZ
Favoured by kings and artists, it is famous for the pink and white marble hidden deep under the vineyards and olive groves. Here the artists work in clay and pottery, transforming the red clay into small human figures (Bonecos de Estremoz) and into stone jugs and water carriers.
S.A. Quinta do Carmo, Lda.
The Carvalhas Estate is just one of the properties that make up this agricultural development, where recently a wine cellar was built. This company's wine growing is traditionally concentrated on the production of red wines, and it is distinguished by technological expansion. Recommended wine: "Quinta do Carmo". (Herdade das Carvalhas, Glória, Estremoz).