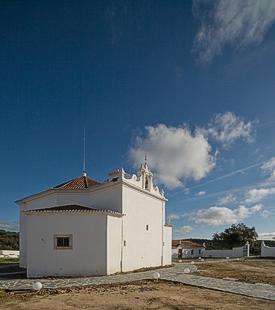 Location (Click here or on map below to enlarge)
Monte do Carmo lies in the very heart of Upper Alentejo, in the Serra da Ossa, 2 Km from the town of Azaruja and a few minutes from Évora. Estremoz, Évoramonte, even Spain is a stone's throw away, excellent for those who want to use their time to visit the endless number of castles, churches and convents and monasteries of one of the least polluted, best kept and prettiest regions of Portugal.
Directions from Lisbon by Motorway: Bridge 25 de Abril > A2 > A6 (Take the 2nd exit to Évora). Bridge Vasco de Gama > A12 > A2 > A6 (Take the 2nd exit to Évora). Turn left and the town is aprox. 4 km.
Directions from Porto: Motorway - A1 > Lisbon > Bridge Vasco de Gama > A12 > A2 > A6 (Take the 2nd exit to Évora).
Directions fom Faro: Main Road - IP1 > Ourique > 1P2 > Castro Verde > Beja > Évora > direction Estremoz, after 10 mins you will arrive at Azaruja.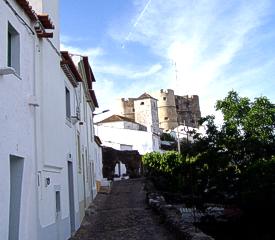 Distances from Hotel
Évoramonte - 5 km: Seen from a distance, the medieval castle of Évoramonte seems to be suspended over the horizon. The Serra da Ossa and a never-ending mass of cork oaks and olive trees complete the picture.
Évora - 18 km: declared by UNESCO a World Heritage Site, more than justifies this choice: an enchanting walled city, with an unique atmosphere in the streets of the old town, filled with restaurants, handicraft shops and historical monuments like the ruins of the roman temple, the 15th-century Convent of Lóios and the cathedral begun in 1186, together with houses exhibiting bright white arcades and balconies of wrought iron.
Estremoz - 20 km: Here you can enjoy a lively weekly market, in this medieval city dominated by the Tower of the Three Castles and the adjoining castle and palace.