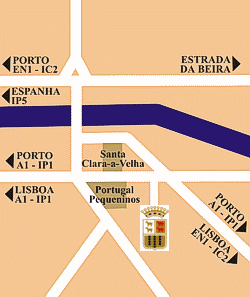 Quinta das Lágrimas Relais & Chateaux is located near "Portugal dos Pequeninos", and Santa Clara Convent nearly 3 miles from Highway Lisboa-Porto (Coimbra Sul exit), less then half a mile from the center of Coimbra and located in a park with 10 hectares.
Coimbra:
The History
Centuries of history lie under a fine mantle of huddled white washed houses, intersected by endless winding streets, steps, arches and lanes which decorate this beautiful, centuries-old Upper Combat, which houses. The Old See, one of the most beautiful romantic monuments in Portugal and the Church of the Holy Cross, founded more then 800 years ago by the first King of Portugal - King Afonso Henriques, which as the Convent of the Holy Cross was the magnificent birth place of Combat renaissance art. In the same area there is also the Church of St. James and Praça do Comércio where the charming medieval streets converge on down-town Combat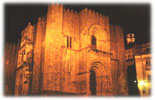 Climb to Almedina arch and climb on up the Quebra Costas steps to the Manueline door of the Sub-Ripas Palace and the Anto Tower. The monumental outline of the New See stands out against the skyline and the Machado de Castro National Museum, famous for its collections of paintings, sculpture, gold work and tapestries, as well as for the elegance of its panoramic Loggia which rests on an amazing Roman crypt, the precious remains of Civita Aeminium Forum. Looking out over the River Mondego the Church of Santa Clara-a-Velha stands on the far bank, with the imposing Monastery of Santa Clara-a-Nova, the final resting place of the Holy Queen Isabel, patron saint of Combat, celebrated in the famous religious festivities.





The University
Over the centuries the University has been the seat of the passionate pursuit of culture and wisdom. The surrounding white houses serve as its throne. The Mondego River is the royal mirror and Combat, renowned and ancient has always had the University, so dear to its heart. Entering by the Férrea gateway the visitor feels the emotion of the initiate student as well as admiration for the magnificent sequence of architectural splendor. The high-reaching, elegant tower, in its erudite baroque, stands as a symbol of the University and of the city itself. The Sala dos Capelos or Sala Grande dos Actos, form the sumptuous backdrop to the solemn academic rights held here. Saint Michael's Chapel has a welcoming atmosphere with its fine altars and baroque organ.





The Via Latina recalls the procession of graduates, the opening of the school year and the investiture of the Rector. The splendid King John's Library dazzles visitors with its gold leaf work and its amazing treasury of books of universal value. The mysterious black capes of the students can always be seen on the courtyard, the garb of students radiant with joy during the "Queima das Fitas" - the major academic festivity, or passionately and nostalgically grouped together during the romantic serenades of Combat´s Fado.