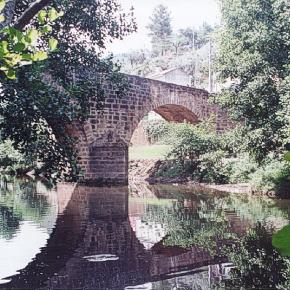 Lousã is a charming town due to the beauty of the landscape in which the plains join the mountainous ridge, and to its magnificent 18th-century houses (such as the Palácio dos Salazares).

The town of Góis, more than eight centuries old, lies in a narrow and deep valley, between the mountains of Carvalhal and of Rabadão, at about 40 kilometres (25 miles) from Coimbra.
Besides the Renaissance mother church of Santa Maria Maior, it is worth admiring the Manueline Bridge with its three arches, the Castle, and the panels on the ceiling of the Paços do Concelho, representing fantasy and biblical figures; in the environs, various chapels offer dazzling views, such as the chapel of Santo António das Neves, in the middle of the Serra da Lousã and which is still within the county´s limits.