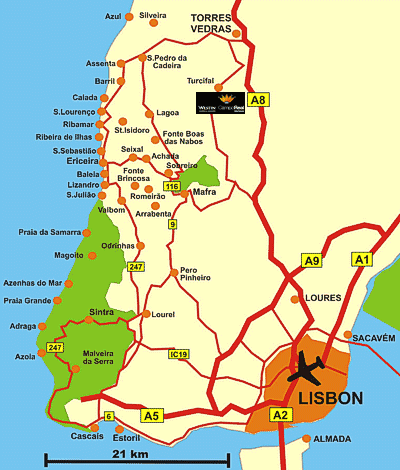 Distances
Torres Vedras - 8 km/5 miles
Lisbon - 38 km/24 miles
Porto - 274 km/170 miles
Faro - 335 km/208 miles
Madrid - 636 km/395 miles
Seville - 406 km/252 miles
Badajoz - 220 km
General Directions to Hotel
From Lisbon (South): Follow Motorway A8 in the direction of Oeste / Leiria. Take Eixo Norte-Sul / IC 17; Cril; Crel (A9) exit. Take Exit 7 (Torres Vedras Sul). After tolls, follow the golf signs to the hotel. From Cascais / Estoril / Sintra (West)
From Cascais / Estoril / Sintra (West): Follow Motorway A5 toward Lisbon: Take Exit Crel A9 in the direction of Loures. Follow signs to A8 Leiria. Continue on A8 North. Take Exit 7 (Torres Vedras Sul). Take the first roundabout, and then follow golf signs to the hotel.
From Porto (North): Follow Motorway A1 toward Lisbon. Take the Motorway A8 exit. Take Exit 7 (Torres Vedras Sul). At the roundabout, take the first exit. Turn left and follow golf signs to the hotel.
Local Area - Turcifal
Turcifal is the nearest town to the resort, about five miles from Torres Vedras and 24 miles from Lisbon, and best viewed from the top of the nearby Serra do Socorro. This beautiful town, with its authentic ancient quarter, needs to be explored at leisure and in depth to appreciate the town's colourful history and architecture. The fertile soil produces the best white and red wines of this region, if not the whole of Portugal. The town has a longstanding gastronomic tradition for sweets and famous (argoleiros) (fair peddlers) who still sell their popular bolos de ferradura (horseshoe cakes) here. Restaurant Lampi"o is a national reference for traditional Portuguese cuisine, where Chef Armando Santos and his family provide fine meals in a warm, family atmosphere. Local festivals include the Feira do Mato (Mato Fair) and Feira do Artesanato (Handicraft Fair) on the last Sunday in August and the Feast in honour of Senhor Jesus Morto (the Lord Jesus Dead), protector of the town.