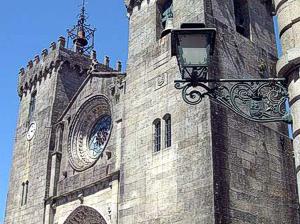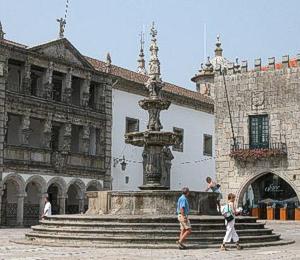 Marina
The small marina is close to the centre of the town just before the the old steel bridge built by Eiffel.


Sé Cathedral
The cathedral was built in the first half of the 15th C. and substantially altered in the 19th C. The two crenellated towers flanking the facade are Romanesque. The interior has fine polychrome wood carving, mainly 17th C.


Praça da República
Just north of the cathedral is the Praça da República, one of the most handsome squares in Portugal. At its heart is the much-photographed Chafariz Fountain, constructed in the 16th century, while the most impressive building on the square is the Church of the Misericórdia, a unique three-storey structure featuring Roman arches and Renaissance balconies. The town's parish church was begun by King João I in 1285 and completed in 1433. Dominated by a large Gothic arched portal, the façade is flanked by two battlemented towers, while the interior is emblazoned with an excellent "trompe-l'oeil" ceiling.
Antigos Paços do Concelho - The old town hall, the Antigos Paços do Concelho on the east side of the square, is an early 16th C. granite building, now used for exhibitions, where bread used to be sold in its arcades at street level.


S. António Church


Funicular
Takes visitors up to the Santa Luzia Church