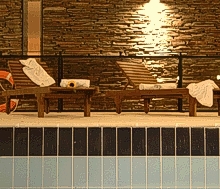 Water is the essence of life and is synonymous with purity, power and energy. The Evora hotel has available a special area intended for those who wish to restore their mental and physical balance.
We can list some of the facilities that our guests have at their disposition: Heated indoor swimming pool with water jet, two outdoor swimming pools, one for adults and the other for children, Jacuzzi, two saunas and an artificial grass surfaced tennis court.
The interior swimming pool is surrounded by an area which invites one to relax with a magnificent view to the gardens and the outside pool.
Inside the hotel you will find a friendly atmosphere, with areas for different activities such as: family games, snooker, live music at weekends, video wall, Internet access point, or simply for reading.