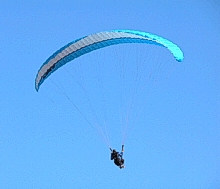 Paragliding
Oudoor Activities
The Alentejo region offers you a variety of outdoor activities:
Karting
Moto4 routes
Archery
4x4 routes
Walking routes
Paintball
Other leisure activities can be pursued through specialist operators: Beginners rock climbing, Horse riding, Traditional sports competitions, Treasure hunts, Map compass and road-book orienteering contests, Team Building, Canoeing, Mountain Biking, Paper Chases and peddy-papers, Adventure sports.
| | | | | | | |
| --- | --- | --- | --- | --- | --- | --- |
| | Karting | | Horse Riding | | Balooning | |
| | | | | | | |
Sightseeing in Évora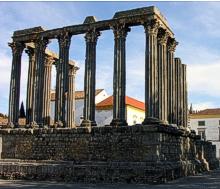 Temple of Diana
Surrounded by plains in the heart of the Alentejo, with its historic center and the unique atmosphere of the old town, Évora was fittingly declared a World Heritage Site by the UNESCO in 1986.
The city, enclosed within Roman, medieval and 17th-century walls, has been important since Roman times, as can be seen by the ruins of its emblematic Temple of Diana, built in the 2nd or 3rd century AD.
The animated main square, Praça do Giraldo, has Moorish arcades, a fountain dating from 1571 and is a popular meeting-place on market days. From there you can explore the city´s more than 20 churches and monasteries, ancient streets with often curious names or the more touristical Rua 5 de Outubro, with shops selling handicrafts from copper pans to carved cork.
The city´s Cathedral, built between 1186 and 1204, includes a Gothic entrance with the sculpted figures of the Apostles, an 18th-century main altar and many other treasures of sacred art; the 15th-century church of São Francisco is famous for its fascinating but rather sinister Chapel of Bones, made from the remains of monks.
But Évora is also a lively town due mainly to its University. The Jesuits first installed a school there in 1559, but they were banned and the school closed in the 18th century; now, it is still part of the new University, with its elegant cloister, a Baroque chapel and magnificent azulejos (painted tiles).
| | | | | | | |
| --- | --- | --- | --- | --- | --- | --- |
| | Cathedral | | Evora University | | Giraldo Square | |
| | | | | | | |