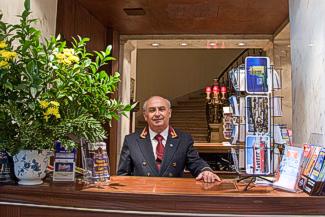 We welcome you to our Hotel.
The Hotel Avenida Palace is located in the downtown district of Lisbon, this being the ideal location for your visits to any place in the city, as well as the Estoril Coast and Sintra Village.
It will be a pleasure to have you as our Guest, we are naturally at your disposal to render you the best service and help you elaborate your touristic itinerary. From tranfers, car rental, flight schedules and reservations, restaurant, Fado Houses and Shows reservations, as well as guided tours to the grand tourist attractions, are some of the services we please to offer, in order to provide you with the most comfortable and pleasant stay.
Carlos Gonçalves Costa, Head Concierge, at your disposal, wishing you the most engaging and pleasurable stay.