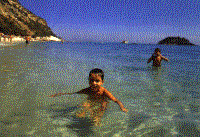 The 'Costa Azul' is a place for beaches and coast. The Costa da Caparica, Melides and Tróia represent limitless space with sandy beaches stretching out as far as the eye can see. Portinho da Arrábida and Porto Covo reveal the rocky intimacy of secluded coves. Sesimbra affirms the Portuguese attitude to the sea.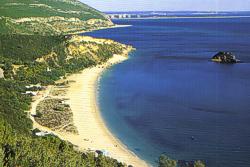 On the 'Costa Azul' the Atlantic Ocean meets the coast. In places, huge sand dunes defy the sea, in others, secluded beaches cut out of the green hills assuage it. These obvious contrasts make this an ideal place for holidays, a choice of beach-type for all.
Summer on the 'Costa Azul' means long sunny days which enhance the originality and variety of the region. In the south one finds not only the sun but also the vastness of the blue ocean and the tranquility of the far-stretching beach. Focusing on these differences, we would like to make a suggestion, a proposal even: a dream summer on the 'Costa Azul´.