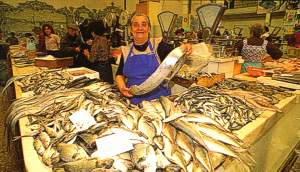 The region of the "Costa Azul" is made up of two very distinct areas of gastronomic traditions: the coastal area where fish dishes predominate, and the interior where the food has characteristic touches of Alentejo.
As the "Costa Azul" is an area of the most freshly caught fish with an abundance of sea food, the customary high quality of the catch justifies that certain species are often associated with these places: whiting and swordfish from Sesimbra and red mullet from Setúbal. Eel stew and a stew made of assorted varieties of fish, fish soup, "angler" fish a local mint, clams and charcoal grilled shad are some of the better known specialities. In the areas with more influence from the Alentejo, the most noted dishes are pork soaked bread, a special bread soup from the area, fried rabbit or pigs trotters roasted in the oven.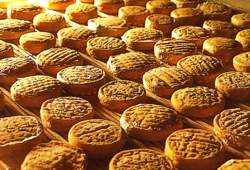 Sweets are also very rich and varied. Special mention goes to candied pine nut kernels (pinhoadas) and cakes made with pine nut kernels which both come from the Alcácer do Sal region. Setúbal produces orange sweets, neighbouring Azeitão is noted for its swiss rolls with a sweet egg filling, while in nearby Palmela a speciality is pears done in local wine.
Cheese made from ewe's milk in Azeitão and wines produced in the region of Palmela, with special emphasis on "Moscatel" and "Periquita" varieties, are also intemationally renowned for their high quality.