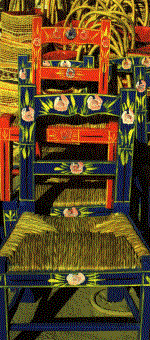 The originality of handicrafts from a particular region is revealed by three basic features
1 - the control and use of a particular technique
2 - the use of materials readily available
3 - ample coverage in the handicraft world.
Handicrafts are the end product of a living culture. Through techniques passed down through the generations, this vivid sector is as varied as the sensitivity and imagination of each artist.
The region of the 'Costa Azul' can be classified in three major scenarios: rural, river-related and maritime, to which urban growth and industry have been added this century.
In the context of landscape and resources, materials are transformed and techniques developed to produce items of rare beauty and practicality which make up the artistic heritage of the 'Costa Azul'.
In order to explain this more fully, we have traced a brief outline of the geographical distribution of its handicrafts, indicating areas, origin and material used.