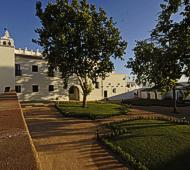 The Convento do Espinheiro is now a magnificent 59-room hotel, set in a beautiful garden area of approximately eight hectares. It's picturesque surroundings make it the perfect spot for enjoying the Portuguese countryside.
RECREATIONAL FACILITIES
Include a six-treatment room spa with a heated indoor swimming pool, sauna, jacuzzi, turkish bath and health club, an outside swimming pool, tennis and paddle court. In the old olive press area. For visiting Évora free transfers are available.