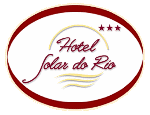 Presenting itself as the most modern hotel in
Spa of Termas de São Pedro do Sul,
the Hotel Solar do Rio is located only 100 meters from the largest Thermals Center in Europe.
The Hotel Solar do Rio offers the best in comfort
and harmony with its 4 suites and 36 rooms, carefully decorated with individual styles.
All rooms are equipped with cable TV, external phone line and air conditioning. With the beautiful views over the Vouga river, the Mesa dos Cardeais restaurant is the ideal place to enjoy the best of traditional portuguese gastronomy. The Retiro dos
Trovadores bar with its terrace facing the river, creates a tranquil atmosphere in which to relax.