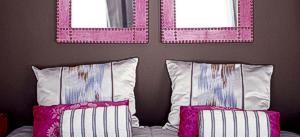 2 NIGHTS HONEYMOON PACKAGE
Almost one thousand years ago, when the algarve was still occupied by the Moors, a King called Almundin, that had a palace near the Vila Monte Resort, fell in love with a princess called Gilda, who came from the north. She was a fair young lady, with blue eyes and long blond hair. They got married and the whole region celebrated the event. With time, Guilda became sad and her husband didn't know how to cheer her up. One day she said the reason for her sadness was that she missed the snowcovered fields of her home land.The king then decided to plant thousands of almond trees all over the algarve, so that when they bloomed in spring, the white flowers would give the impression of snow. Still today, in springtime the algarve is covered with little white flowers, forever paying a tribute to the act of loveof a Moorish King.
Includes:
2 nights in a Junior Suite with buffet breakfast
VIP amenities in room(Sparkling wine and chocolate truffles)
1 dinner for 2 per stay in the Orangerie Restaurant (menu orangerie and wine supplement)
1 special half an hour massage for 2 called "Amendoeiras em Flor". Side by side synchronized massage, inspired by the love story of King Ibn-Almudin and Queen Gilda, which created the almond trees in bloom legend. It offers a truly romantic experience.
Free usage of the pitch & putt golf course, driving range, pitching green and putting green of the Vila Monte Golf Academy
Free usage of the 3 swimming pools and fitness center
PRICES PER PERSON IN JUNIOR SUITE:

March - May 2011: 266.00 €
June - September 2011 (except August): 296.00 €
November - December 2011: 244.00 €
Conditions:
Valid from 3 Jan - 29 Dec 2011, Except Carnival, Easter, Christmas and August. Package subject to reservation and hotel availability and no possibility of being accumulated with other offers. This package can be changed without prior notice.